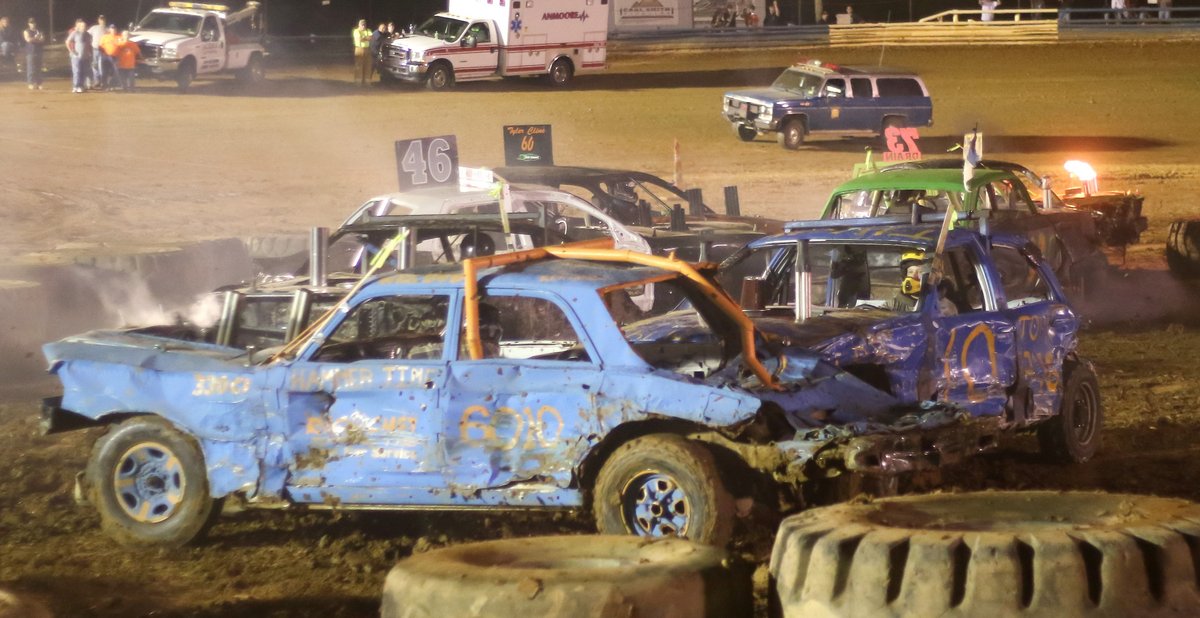 Full Size Class
8 Cylinder Cars Demolition Derby
Rules and Information
General Rules:
1) No trucks, 4×4 cars, convertibles, commercial vehicles, or Chrysler Imperials will be permitted
2) No putting sub frames from Chrysler Imperials under any other make or model
3) Police cars are allowed.
Preparation:
1) All glass, chrome, carpet, and lights must be removed for safety.
2) Fenders may be trimmed only for tire clearance.
3) Only one piece of 3 inch pipe or 3 inch tubing may be used for support behind the seat. One piece of 3 inch pipe or 3 inch tubing may be used for support behind the steering wheel. Any bigger than that and you will have to cut it out.The end plates for the pipe or tubing cannot be larger than 4×4 inch square. A roll over bar may be used but can only be connected to the bar behind the seat. If the roll over bar goes outside of the car and over the roof, it cannot be welded to the body. The fourth bar can be added against the passenger door.
4) Cut a 12×12 inch hole in the center of the hood.
5) You may put a number plate with your car number on the car roof so that it is easier to identify your car. Not mandatory.
6) You may place 2 or 3 bars in the windshield area in front of the driver's view for driver's safety. Not mandatory.
7) You may place 2 bars in rear window. The bars must be attached to the roof or roll over bar down to the speaker deck. If the speaker deck is removed only 1 bar can be used in the center of roof with a 4×4 inch plate attaching it straight down to the floor. If you have a wagon, the bars cannot go any more than 2 inches on the back gate. No attaching to the bumpers.
8) Kickers may be used if you are not using an engine cradle. Kickers can not extend beyond the A-frame. If you are using an engine cradle then you can not use kickers.
Springs:
1) No adding extra leaf springs. Leaf springs must be stock from factory. Must be staggered.
2) No converting coil springs to leaf springs.
3) You may use a stiffer coil spring on the rear to replace original coil spring.
4) Coil springs may be welded, chained, or wired in.
Doors and Body:
1) No reinforcements of body except in driver's door.
2) No welding body seams.
3) Do not weld the bottom of the doors inside or outside. Do not weld around the door window seams. Only the driver's door may be welded all around.
4) Doors must be secured with chains, wire, bands, or welded. If welded, weld only seams on doors from door post to bottom of door. Front fenders may be welded to door and the rear quarter panel may be welded to the door. Welded on plates can be no more than 2 ½ inches wide on door seams.
Frame:
1) No banding, wiring, chaining, or welding the body to the frame or through the frame.
2) Trailer hitches must be removed.
3) No welding the seams on the top or bottom of frame from the A arms to the back of the car. The seams from the A arms to the front bumper may be welded. No pinning the frame.
4) Notching the frame is allowed but do not weld cuts.
5) No painting the frame or inner fenders. No spraying inner fenders or frame with any material such as rhino lining.
6) You can remove body mounts and replace with bolts. Bolts cannot be bigger than 7/8" x 10" long. Washers cannot be any larger than 4" around or 4" square.
7) Top A arm or bottom A arm can be welded or bolted down. If you have a 2003 or newer Ford and you are making a top A arm, it cannot be any wider than 13 inches and no thicker than ¼ inch.
8) No welding inner fenders to the fenders.
9) Tie rod ends may be reinforced.
10) If the frame is broken or rusted through, you may weld a 3×3 inch plate no thicker than ¼ inch on one side of the frame.
11) Hump plates are allowed on the outside of the frame. Only one piece 4"x24"x¼". This is for Full Size Cars only! (Hump plate cannot exceed past the frame.)
12) Hard nosing and tilting of the frames is allowed.
Gas Tank:
1) The gas supply must be removed from the stock area to behind the driver's seat and securely fastened and well covered.
2) A gas tank protector can be used. Use no bigger than 3 inch pipe or 3 inch tubing. It cannot touch the floor or body. It must be fastened to the bar behind the seat. It cannot be bigger than 26 inches inside. Any bigger than that and you will have to cut it. This is not to be used to protect oil coolers or transmission coolers.
3) Any type of fuel can be used.
Battery:
1) Any size battery may be used, securely fastened.
2) No more than two 12 volt batteries may be used.
Bumpers:
1) Bumpers are interchangeable. Any car bumper may be used on any car. Bumper brackets can not extend any more than 12 inches on frame. No homemade bumpers or truck bumpers allowed. DEC Header bumpers are allowed. No loaded bumpers or using C channel for backing will be permitted.
2) You may weld the bumper seams, shocks, and the brackets to the frame. No welding on the frame except for the brackets.
3) Bumpers may be cut so they do not smash into the tires during the event. Bumpers may be flipped.
4) No bumpers may be welded to the body.
5) For 2003 Fords and newer: If you weld the holes on the frame, the bumper must be fastened straight to the frame with no brackets used. If you don't weld any of the holes on the frame, you may use bumper tube shock 12 inches long.
6) Rear bumper height must be a minimum of 15 inches from the bottom of the bumper to the ground.
Shocks:
1) Shocks must be stock. No using all thread bolts through them.
Tires:
1) Any type of rough tread is permitted. No studs or screws to hold tires to the rim and no filling tires with any material.
2) Valve stem guards are allowed. No split rims.
Engine:
1) Weld solid or chain down engine mounts is recommended.
2) A distributor and carburetor protector may be used, mounted to the engine only.
Hoods and Trunks:
1) Hoods must be able to be opened for inspection.
2) Hoods may be fastened with wire, chains, bands, or bolts no bigger than 7/8 inch  in 6 places. Three inch washers may be welded on for use of wire, chains, bands or bolts  to go through.
3) Trunks may be fastened with wire, chains, bolts or bands or welded 3 inches on and 3 inches off around the trunk. Plates for welding cannot be bigger than 3×3 inch square. Trunks can be completely removed. Three inch washers may be welded on for use of wire, chains and bands to go through. Bolts cannot go through the frame.
4) If you weld or bolt the trunk, a 12×12 inch hole must be cut in the center for inspection purposes.
5) Trunks must be 8 inches above trunk floor.
Transmission and Oil Coolers:
1) Transmission coolers are allowed.
2) Oil coolers are allowed.
Radiator and Radiator Supports:
1) Radiators must stay in stock position.
2) Nine gauge wire or bands can go from the radiator support to the bumper.
3) No solid material, such as flat steel or angle iron, may be used in front of or around the radiator. Spray Foam  may be used.
Core Support:
1) Four bolts are allowed in the core support. No tubing or pipe is allowed above the bottom of the core support.
Rear Ends:
1) You may use any type (Ford/ GM/Mopar/Hybrid) rear ends in any make of car .No dual rims. No rear ends bigger than ¾ ton may be used. You may tilt rear end by shortening or lengthening rear end control arms; however, they must still be working.