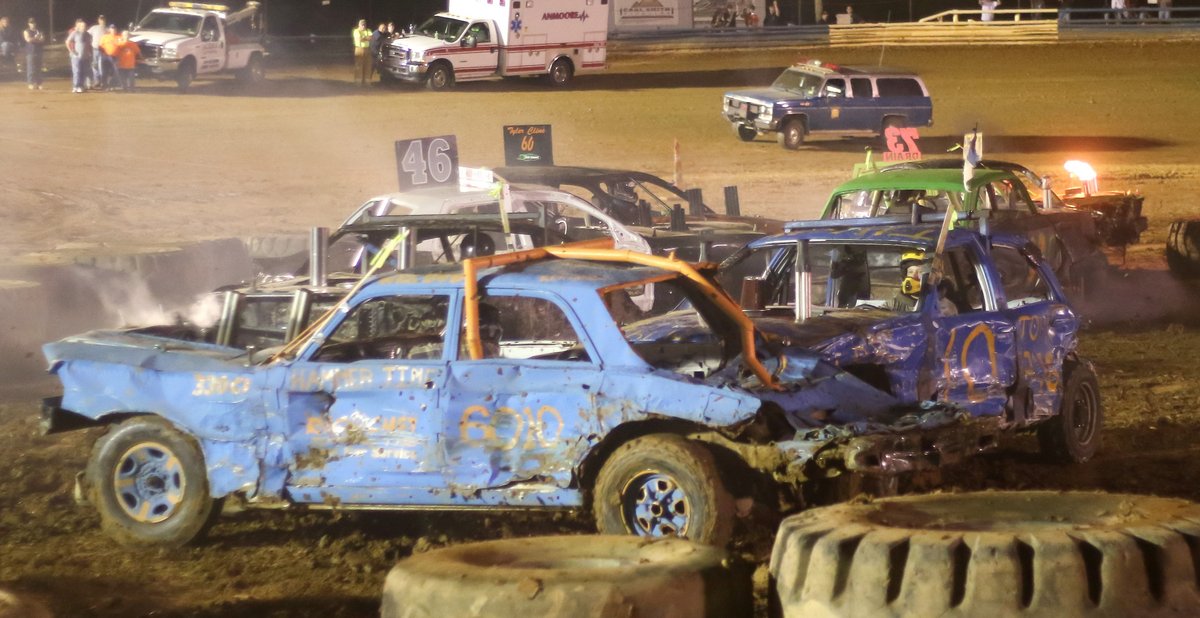 Full Size Class 8 Cylinder Stock Demolition Derby
Rules and Information
Vehicle:
1) No trucks, 4×4 cars, convertibles, commercial vehicles, or Chrysler Imperials will be permitted
2) No putting sub frames from Chrysler Imperials under any other make or model
3) Police cars are allowed.
Preparation:
1) All glass, chrome, carpet, and lights must be removed for safety.
2) Fenders may be trimmed only for tire clearance.
3) A four- point cage is allowed. 3- inch pipe or 3- inch tubing may be used. Cage cannot be welded down to the frame.
4) Cut a 12×12 inch hole in the center of the hood.
5) You may put a number plate with your car number on the car roof so that it is easier to identify your car. Not mandatory.
6) You may place 2 or 3 bars in the windshield area in front of the driver's view for driver's safety. Not mandatory.
7) If the engine and/or transmission needs replaced, you may use any factory model to replace it/them.
8) Any aftermarket or homemade steering rods will be allowed.
Springs:
1) Only original stock springs are allowed.
2) Adding extra leafs to the spring stack is not allowed.
Doors and Body:
1) Doors must be secured with chains, wires or bands.
2) Only the driver's door may be reinforced and may be welded.
Frame:
1) Trailer hitches must be removed.
2) Plating or reinforcing the frame is not allowed on fresh cars. A pre ran car can have no more than 4- 4X4 inch plates.
3) Notching the frame is allowed but do not weld cuts.
4) You may remove 6 body bolts of your choice.
5) You may reinforce factory tie rod ends.
6) A-arms may be welded.
7) Hump plates are not allowed.
8) No painting the frame or inner fenders. No spraying inner fenders or frame with any material such as rhino lining.
9) Cold bending the frame is allowed, no plating. Hard nosing is also allowed.
Gas Tank:
1) The gas supply must be removed from the stock area to behind the driver's seat and securely fastened and well covered.
2) A gas tank protector can be used. The protector must be positioned straight back, not tilted to the floor.
Battery:
1) You may use no more than 2 stock batteries.
Bumpers:
1) Any make stock bumpers are allowed. DEC & SMW BUMPERS ARE ALLOWED BUT CAN NOT HAVE GUSSETS. Seam welding and end caps are not permitted. The ends of the bumper may be trimmed.
2) Bumpers may be welded to the frame.
Shocks:
1) Shocks must be stock.
Tires:
1) Skid steer tires may be used, 8 ply only.
2) Winter tread tires are permitted. You may use tire tubes.
3) Valve stem guards are allowed.
4) No split rims.
Engine:
1) Weld solid or chain down engine mounts are recommended.
2) A distributor and carburetor protector may be used.
Hoods and Trunks:
1) Hoods must be able to be opened for inspection.
2) Hoods may be fastened with wire, chains, or bands, in 6 places. No bolts or welds.
3) Trunks may be fastened with wire, chains, or bands in 6 places. No bolts or welds.
Transmission and Oil Coolers:
1) Transmission coolers are allowed.
2) Any aftermarket shifter is allowed.
Radiator and Radiator Supports:
1) Radiators must stay in stock position. Or be removed completely out of the car.
2) Nine gauge wire from the radiator support around the bumper may be used.
3) Use of spray foam is allowed around the radiator.
Rear Ends:
1) Any car stock rear end may be used. You may weld the gears. Pinion brakes are allowed.
2) Slider drive shafts are permitted.
CONTACT THOMAS MOTORSPORT, LLC AT 304-889-3256 OR 681-307-8703(cell) WITH ANY QUESTIONS.