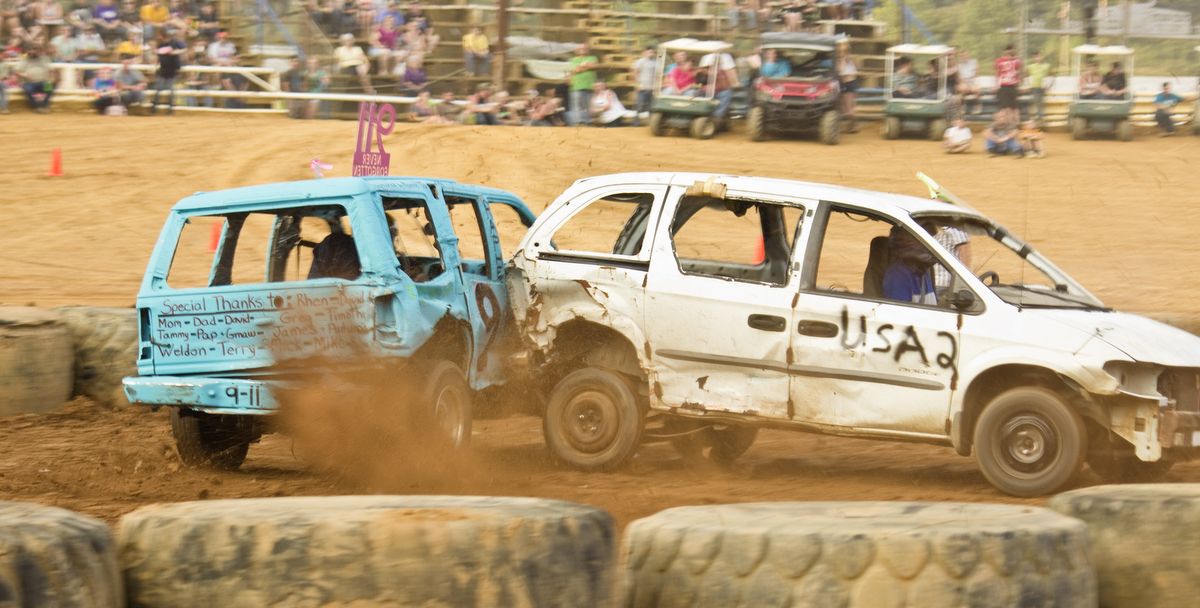 Mini Class
Minivan/Small SUV/Small Truck Demolition Derby
Rules and Information
General Rules:
1) All wheel drives and 4 wheel drives must be converted to 2 wheel drive by removing one drive shaft.
2) Small trucks can be any 2 or 4 wheel drive mini trucks, Jimmy's or Bronco II's. Any type of mini van or small SUVs are allowed.
3) All glass and chrome must be removed.
4) No body lifts or suspension lifts allowed.
5) Trailer hitches must be removed.
6) The battery must be relocated to the front floorboard and securely fastened. Any size battery may be used.
7) Radiator must stay in stock position.
8) Doors may be chained, wired, banded or welded.
9) One piece of pipe may be put behind the seat. One piece of pipe may be used in the dash.
10) Any car bumper may be used. DEC Header bumpers may be used. No homemade bumpers.
11) Hoods must have a 12×12 inch hole cut in the center.
12) All hoods must be opened for inspection. Hoods may be fastened with chain, wire or bands in 4 places. No bolts or welds.
13) All frames must be stock.
14) If the frame is broken or rusted through, you may weld a 3×3 inch plate no thicker than ¼ inch on one side of the frame.
15) A arms may be welded.
16) No adding extra leaf springs. Springs must be stock from factory. Do not weld leaf springs.
17) You may add spring stiffeners to coil springs.
18) The gas supply must be removed from the stock area.
For minivans and SUVs the tank must be located behind the drivers seat and securely fastened and well covered. For small trucks the tank must be mounted inside the cab or in the center of the bed directly behind the cab, securely fastened and well covered.
19) All loose objects must be removed from the cab and bed of the small trucks.
20) Only factory beds are allowed. Beds can be mounted in factory mounts. Rubber mounts may be removed. No additional bolts or welds may be added.
21) The back of the cab may be welded to the bed. Tailgates may be welded. No other reinforcing will be allowed.
Engines and Transmissions:
1) Chained or welded down engine mounts are recommended.
2) Transmission coolers are permitted.
3) All vehicles must have working breaks.
Tires:
1) Any type of tire is permitted. No studs or screws to hold tires to the rim. No filling tires with any material.
2) No split rims.
3) Valve stem protectors are allowed.
CONTACT THOMAS MOTORSPORT, LLC AT 304-889-3256 WITH ANY QUESTIONS.